Sport vs Business – Promotion and Relegation in the U.S. Soccer
Whether it's due to the long term rise in popularity of soccer in the US or more recent events such as Leicester City's title and rise of NASL / USL, one thing is sure:
Majority of US soccer fans want the promotion and relegation system!
Creating a league pyramid would enforce a hierarchical structure that would, without a doubt, benefit the US soccer as a whole. Now, where the debate begins is at the business side of things.
" Soccer in this country is bigger than just a handful of markets that have MLS teams. In the end, soccer needs to win and perhaps we can find creative ways to give deserving markets a chance to be part of Major League Soccer. " 
Landon Donovan
Current Setup Makes it Impossible
The way MLS is currently set up makes the introduction of promotion and relegation nearly impossible! Due to high buy-in fees for franchised teams (most recent teams around $100 million), owners don't want to even consider the option of their lucrative investment going down the league.
In addition to this, the lack of history for American soccer clubs means a significantly reduced fan loyalty compared to the best leagues around the world. Can you imagine a club just few years old having a faithful fan base even if they got relegated?
Fans' Opinion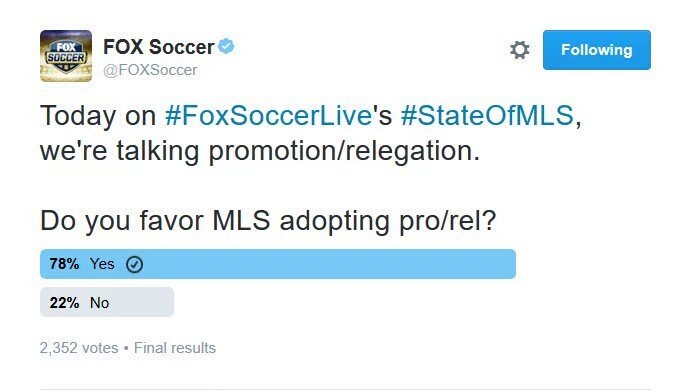 As professional sports are one of the last strongholds for meritocracy in our society, the fans believe that the league and the federation are not doing enough to appreciate them by rewarding greater on-field performances.
MLS' huge investment is unfortunately currently out of touch with US soccer reality and that disconnect is then used to justify not implementing the right model.
To further ensure and make things harder for anyone willing to change the system, MLS has the famous single entity which means that all MLS players are signed with the league itself and not any individual franchise. This gives players less freedom to move freely and that is another reason preventing US soccer from bringing more players in their prime.
Their current "retirement league" look has to be improved upon but the fact that Giovinco who was the best player in MLS last year couldn't make it in Italy's Euro squad says a lot.
"This thrill of the relegation battle is non-existent in the U.S. league. The risk for club investors to all of a sudden play in the second league would be too high. But the sporting side would benefit from it." 
Jurgen Klinsmann
growth in average MLS game attendance since 2001
growth in average MLS game attendance since 2011
Billion dollars was invested in MLS in last 20 years
Looking at the numbers, should US be happy with their current attendance average? Of course they should, because there is a constant growth but MLS' strategy to target general fans more might not always work as soccer awareness keeps raising.
Major League Soccer has a greater potential to capture within its own market inside the US and creating a league that will create excitement throughout the season, on both ends of the table. Giving the teams an incentive to invest in players and actual performance quality is the key in creating a sport more entertaining for the larger crowds.
The greatest marketing tool that has been used as a magnet for attracting fans so far are the players with worldwide reputation such as Beckham, Henry, Keane, Marquez, Drogba, Gerrard, Pirlo, Villa, Lampard and so on. If MLS wants to create a demand for the league as a whole, they need to prioritize fan engagement. This will give them greater sustainability because they will have fans coming to see their team, support their players, and their region instead of coming out couple times a year to see a superstar on the other side of the field.
"When you're playing, it's always stress because if the team gets relegated then you're not going to be playing in the best league, you're going to be playing down a league. It's going to affect people's wages. It could affect that club in terms of what the future holds because they'll have to sell some players and try to keep some players because you're missing out on the money from TV deals."
Clint Dempsey
Conclusion
Introduction of promotion and relegation in the U.S. soccer would increase the risk of running a business for current owners but in order to manage it and minimize it – they would have to invest more in players and players' development. The television deals would likely go up not only due to the higher game quality but also a greater level of excitement. After all, higher risk leads to a higher reward.
The relegation battle can be seen as a fight for life and it adds something new in the U.S. sports in general. This means there would be a higher demand for the games both in stadiums and on TV. As MLS continues to expand their league with more teams in the years coming up, the question remains: when will they realize that increasing supply doesn't necessarily improve the quality – and quality is what brings fans to the stands.
Realistically, finance of pro sports in the US make promotion / relegation a story fans can only dream about for now, at least by the time that lower leagues get stronger and close the gap between them and MLS. There were already similar cases of other pro sports in this country that had their lower divisions put pressure on the established top leagues. American football and the rise of AFL pushed the NFL to merge with them in 1966, while in basketball ABA forced the NBA to combine with them in 1976. In both cases, the newer leagues became direct competition and got the established leagues to negotiate and create new leagues.
If MLS keeps growing,together with NASL and USL, we could see promotion and relegation one day. The fact that the debate has moved from this system being impossible to some possible scenarios that could work is already a step ahead for the sport itself, as well as this topic becoming a regular subject for discussion between those that actually care about the game.
Luka Pauk
Overtime Sports Marketing
If you have any questions about sports marketing, feel free to contact me at pauch012@gmail.com